"It'll build character!"
This article is a stub. You can help the The Calvin and Hobbes Wiki by expanding it.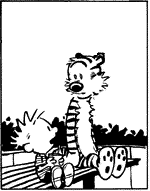 Calvin's
Local Zoo
contains quite a few different animals. Calvin and his family went there once, and he got lost. He was seperated by following a
lady
around who looked like his
mother
. Calvin learned his mistake after he asked the woman if he could feed the elephants, to which she replied "I'm not your mom". After his parents discovered
Hobbes
alone, they began to worry. After wondering where Calvin was,
Calvin's father
guessed Calvin was at the Tiger Pit. Then he joked that maybe Calvin was
in
the Tiger Pit. Calvin was then seen asking the tigers if they had seen Hobbes. Calvin was found by his father and reunited with his family. As they left, Calvin told Hobbes that his fellow Tigers were useless in helping him find him.

Calvin's Mom later considered taking Calvin and Hobbes there another time, but Calvin decided not to after Hobbes compared the Zoo to a prison.
Known Exhibits
Monkey cage
Alligator pit
Tiger pit
Elephant Habitat