The Calvin and Hobbes Wiki:Calvin's Sandbox
Talk

3
379pages on
this wiki
This is a sandbox. Feel free to practice editing! For editing help, visit this page.
This article is about practicing to edit. For the actual object, see Sandbox.
---
Secundomia (talk),(Contributions),(blog),([[Special:Following/Secundomia|followed pa==Welcome to the Calvin and Hobbes Wiki==

Welcome to the Calvin and Hobbes Wiki!! We hope you can make continuing contributions of articles and/or discussion and other improvements.
If you are new to Wikia or wikis in general, be sure to visit the "Community portal" for an outline of some of the main parts of the site and a link to pages that tell you how to edit.
Do keep an eye on the "recent changes" page, where all edits and their authors (anonymous or signed-in) are listed. Bookmark it, maybe. (And help delete spam and vandalism - unpleasant but a fact of life.)
Discussion of any aspect of the site, and enquiries, can be made at Talk:Main_Page or on the "discussion" page associated with each article. It helps if you sign and date your contributions there, so that readers know "who to talk to" and whether your message is probably still of current interest. If you write on a user's "talk" page, that user will get an alerting message on next visit.
Remember to sign every discussion or talk page with four tildes (~~~~).
Feel free to fill out your user page so we can learn more about you.
Please remember that, unlike Wikipedia, the Calvin and Hobbes Wiki is censored.
Thanks! And, once again, welcome to the Calvin and Hobbes Wiki.ges]]) 15:27, May 24, 2010 (UTC)
MICHAEL BRICENO'S THOUGHTS ON THE WONDER OF CALVINEdit
This is a practice page that i was going to start and i was wondering who and how many will see this. So I thought that i would be a sport and write something for the people that might be reading. In addition I also had the idea that I would put my two cents in while I was at it. This is more than a comic strip for me I have followed this CRAZY kid down the rabbit hole many many times. I believe that when its all said and done Calvin and Hobbes will live for ever!! I can't wait to share him with my GRANDKIDS and watch them be moved by his exploits! If there is any thing that you would like to share with me or comment on what I have said here feel free to send a reply or just post it as you can. Thanks for taking the time to read this and comment on it also. Happy reading and beware the big cat!!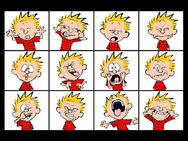 Hobbes is neither a real tiger nor a toy. Someone please quote Watterson from the Calvin and Hobbes Tenth Anniversary Book I can't find it.