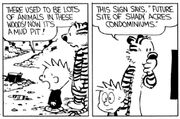 Shady Acres
is a condominium that was supposed to be built behind
Calvin's house
.
Calvin
and
Hobbes
discover the empty plot and complain about the habitat of forest animals being ruined. Calvin grouses that when he grows up there will not be one piece of habitat left, and wonders what would happen if animals attacked the suburbs and replanted trees. This inspires Hobbes to carry out such a plan by using a bulldozer to destroy houses, but this is foiled when he finds no way to start the bulldozer. This is the only story arc that mentions the construction, so it is unknown if the building plans fell through or if the condominiums got built.
Both Calvin and Hobbes misunderstand the name "Shady Acres". Hobbes sees no trees providing shade, and Calvin thinks the animals were the intended customer base, remarking "Animals cannot afford condos!"
Ad blocker interference detected!
Wikia is a free-to-use site that makes money from advertising. We have a modified experience for viewers using ad blockers

Wikia is not accessible if you've made further modifications. Remove the custom ad blocker rule(s) and the page will load as expected.