Bill Watterson
took two
sabbaticals
from writing
Calvin and Hobbes
: the first from May 6th, 1991 to February 1st, 1992, and the second from April 4th through December 31, 1994. At the end of the first sabbatical,
Watterson
changed the rearrangeable Sunday strip format to the unbreakable 1/2 page design.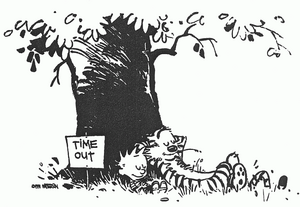 The concept of 9-month sabbaticals was novel at the time, and began to be recognized by other comic strip artists afterwards. As such, Watterson effectively popularized the concept of sabbaticals.[1]
References
Ad blocker interference detected!
Wikia is a free-to-use site that makes money from advertising. We have a modified experience for viewers using ad blockers

Wikia is not accessible if you've made further modifications. Remove the custom ad blocker rule(s) and the page will load as expected.