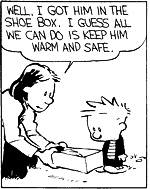 Calvin
and
Hobbes
once found a near-dead raccoon.
Calvin's mother
took it into the garage and gave it food and water. Sadly, it was too weak to eat anything, and the next day it had passed on.
Calvin's father then told Calvin what happened, then he began to burst out bawling and sobbing, and his Dad did the best to comfort him. He later buried the raccoon under a tree in the woods.
Calvin and Hobbes later didn't understand why he had to die, and had trouble falling asleep, instead hiding under the bed. The story arc ended with Calvin talking about his mother saying birth was as natural as death, with Hobbes slightly comforting him as well. The strip focused on rare themes such as sadness, death and loss.
Trivia
It was never shown or elaborated on what gravely injured the raccoon.
This is regarded as the storyline which changed many people's view of Calvin. To this point, his adventures and experiences had all been positive, and readers had seen only his happy, fun, albeit mischievous and unpredictable nature. However, here another side of him is shown: a truly caring, sweet-hearted child.
Ad blocker interference detected!
Wikia is a free-to-use site that makes money from advertising. We have a modified experience for viewers using ad blockers

Wikia is not accessible if you've made further modifications. Remove the custom ad blocker rule(s) and the page will load as expected.