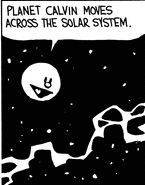 Planet Calvin
is a minor alter ego of
Calvin
that appeared in a single weekday strip.
Appearances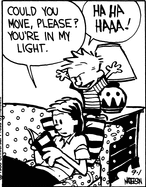 In Planet Calvin's one and only appearance, he was orbiting around the Earth when his orbit took him directly between the Sun and the Earth, causing a total solar eclipse. In reality, it was Calvin standing in front of a lamp that his mother was relying on to read with.
Ad blocker interference detected!
Wikia is a free-to-use site that makes money from advertising. We have a modified experience for viewers using ad blockers

Wikia is not accessible if you've made further modifications. Remove the custom ad blocker rule(s) and the page will load as expected.