Ad blocker interference detected!
Wikia is a free-to-use site that makes money from advertising. We have a modified experience for viewers using ad blockers

Wikia is not accessible if you've made further modifications. Remove the custom ad blocker rule(s) and the page will load as expected.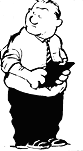 Mr. Lockjaw
is the coach of the baseball team at
Calvin's school
. He is a squat, balding man with seemingly little patience for people like
Calvin
who lack a competitive spirit. When Calvin left the baseball team, Lockjaw called him a "quitter" instead of helping to solve the problem.
Another gym teacher was seen at Calvin's school; he was shown in a single weekday strip wearing a shirt that read "Gym Instructor". It is unknown whether he worked before or alongside Mr. Lockjaw.