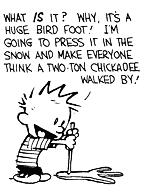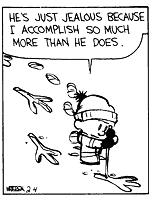 The
huge bird foot
was an invention of
Calvin
's.
[1]
It is an oversized cutout of a bird's foot that Calvin would press into the snow to fool people into thinking a "two-ton chickadee" had passed through. Hobbes sarcastically said that "time weighs more heavily on some peoples' hands than others," but Calvin was not deterred from using the huge bird foot, claiming that Hobbes was jealous.
References
Ad blocker interference detected!
Wikia is a free-to-use site that makes money from advertising. We have a modified experience for viewers using ad blockers

Wikia is not accessible if you've made further modifications. Remove the custom ad blocker rule(s) and the page will load as expected.