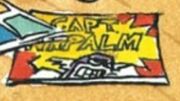 Captain Napalm
is a comic book superhero (and an eponymous superhero comic book) in
Calvin and Hobbes
.
The Captain Napalm comic book is a satire of somewhat outdated superhero comic books such as Captain America. Calvin is a loyal fan of the monthly publication, and even collects Captain Napalm bubblegum cards: for $20 worth of gum, he owned all but #8 and #34. The Captain's comic book is presumably tied in to a "Thermonuclear League of Liberty" comic, as Captain Napalm is head of the aforementioned League. Captain Napalm is never directly featured, and little is known about him.
See Also

Ad blocker interference detected!
Wikia is a free-to-use site that makes money from advertising. We have a modified experience for viewers using ad blockers

Wikia is not accessible if you've made further modifications. Remove the custom ad blocker rule(s) and the page will load as expected.